Filed In:
Recipes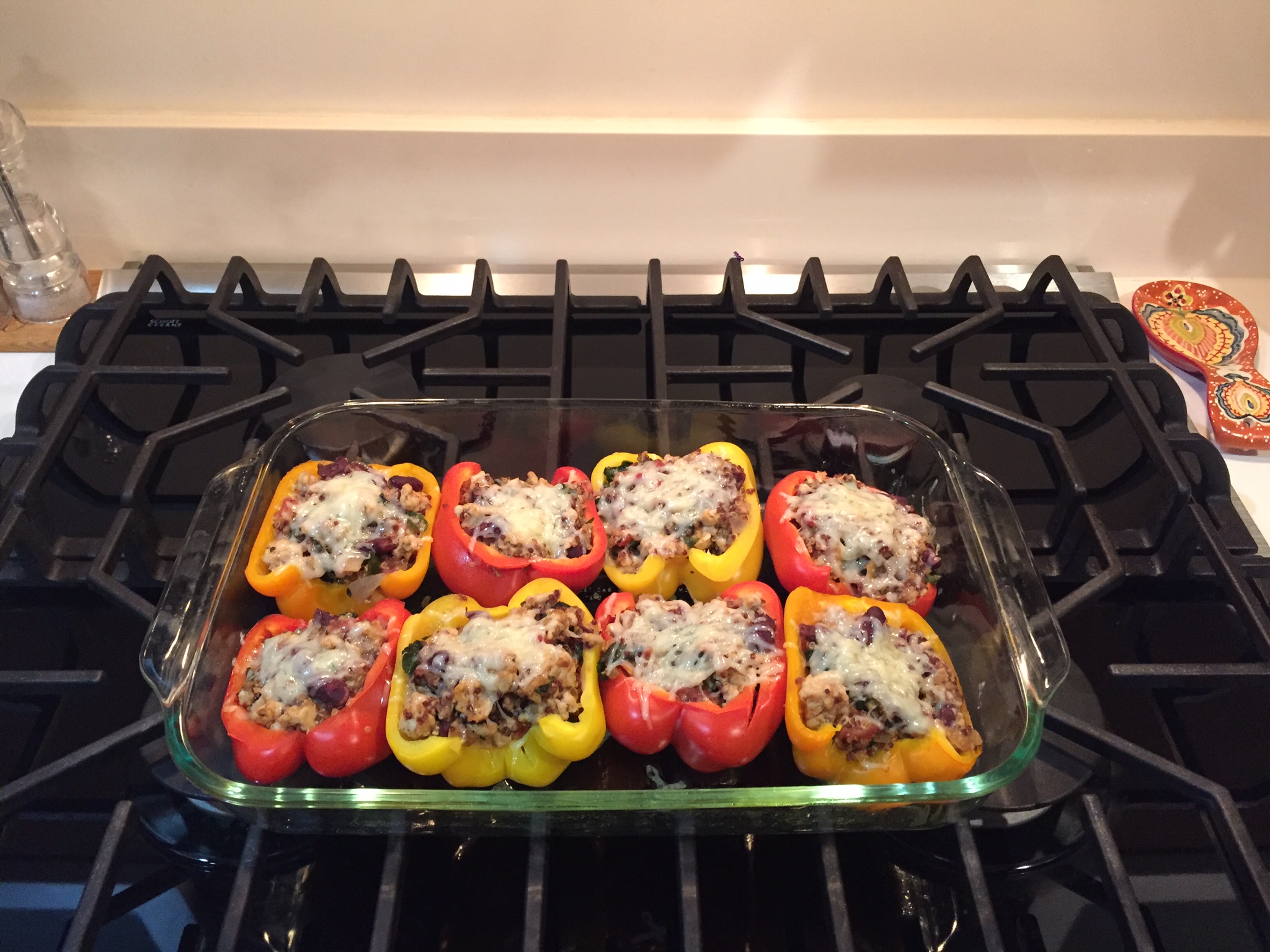 As I walked into Whole Foods earlier this week, the Fall-colored bell peppers were staring right at me and I immediately knew what I would be preparing and baking for easy dinners/lunches: healthy turkey-quinoa-veggie stuffed bell peppers!
Eating healthy is always a priority of mine, but over the last 2 weeks, I haven't had many cravings and I've been lacking energy. My immune system has not been normal to say the least – annoying allergies, a painful sinus infection and then, BOOM, a stomach bug decided to grace me with it's horrible presence. The worst. It can only go up from here!
While I didn't actually follow a recipe, I did reference Chef Savvy's yummy recipe as a guide and made some changes based on items I have in my own kitchen. What I loved most about her recipe were the half-cut bell peppers AND the Mexican seasonings she used (aka. one of my favorite cuisines, thanks to my childhood in San Diego). Why half-cut bell peppers win? 1) Easier to prep, clean and stuff.  2) Better portion size. 3) Better to transport leftovers to work. 4) Bakes much quicker. Why Mexican anything wins? No comment required here.
Note, I have leftover filling – but it's great to put some over extra quinoa as well for a protein-filled snack!
Ingredients:
1-1/4 tablespoon extra virgin olive oil
1 lb lean ground turkey
1/4 cup onion, chopped *use more or less to taste
2 garlic cloves, minced *use more or less to taste
3/4 cup diced tomatoes
1/2 cup low sodium chicken stock *use more if it looks/tastes dry
1/2 cup shredded kale *replaced corn with kale
1/4 cup kidney beans, drained and rinsed *replaced black beans with kidney beans
1/2 teaspoon cumin *use more or less to taste
1/2 teaspoon chili powder *use more or less to taste
1/2 teaspoon paprika *use more or less to taste
1/8 teaspoon pepper *use more or less to taste
1/8 teaspoon salt *use more or less to taste
1 cup cooked quinoa with 2 cups water *there will be extra you can use in other meals
4 bell peppers, cut in half and seeded *you could buy a 5th as well just in case
Grated Parmesan (or whatever cheese you prefer)
Instructions:
Preheat oven to 415 degrees (depending on your stove, you might want to slightly increase throughout baking).
If you don't purchase pre-cooked quinoa (which I do not), you will want to boil your water and simmer your quinoa for around 20 minutes. It's super easy to prepare!
Meanwhile, add oil to a large skillet.
Add in ground turkey and saute until fully cooked, 5-6 minutes.
Add in onion and cook for 2-3 minutes.
Toss in garlic and cook for an additional minute.
Stir in tomatoes, chicken broth, beans, shredded/minced kale, cumin, chili powder, paprika, pepper and salt. Bring to a simmer. Cook for 3-5 minutes until slightly thickened.
Take off the heat and stir in cooked quinoa (put in as much as you prefer; I only used around a 1/2-1/3 cup cooked quinoa.
Stuff peppers with the filling and place in a 9 x 13 pan. Cover with aluminum foil. Bake for 30 minutes or until the peppers are tender and the filling is hot.
Take out peppers and sprinkle on cheese of your preference. Place back in oven for 1-2 minutes so cheese melts.
Serve immediately. Save some for leftovers.
My big recommendation is always ensure you season to taste and use your best judgement with flavor. I personally love to keep my flavor simple and then, leave room to drizzle on some Sriracha for that extra kick.
Hope you enjoy! Xx LPH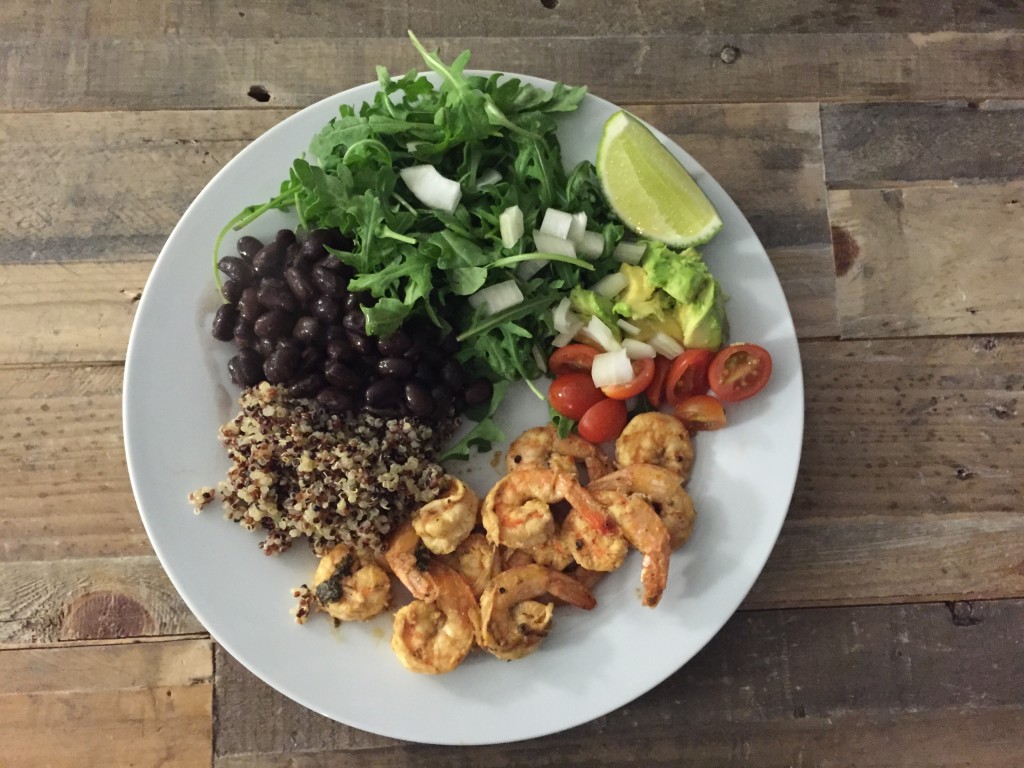 Photo Courtesy of Lincoln & Holland
After a long day of work, nothing is better than a homemade meal under your own roof. Cooking is not only a much healthier option – it is a wonderful, effective stress reliever. Thankfully, my refrigerator is filled with tons of yummy veggies and protein from my first FreshDirect order I received last night. I'm typically a grocery shopper who goes just about every Sunday, but decided instead to use a gift card I received for the holidays from my mom. FreshDirect definitely exceeded my expectations. I'm sold.
Being that it's Tuesday and there is never a better time to have tacos, I decided to whip up a simple remix to Taco Tuesday: L&H's Healthy Taco Tuesday Plate. Believe me, I love myself some corn tortillas, but it feels great knowing you don't need to eat carbs and you can taste the same flavors.
Ingredients (Feeds 3 people, or 2 really hungry people):
Shrimp Marinade
1 lb. of medium shrimp
1/4 cup of olive oil
1/4 cup of lime juice (approx. 2 limes)
2 tablespoons chopped cilantro
1 teaspoon cumin
1/2 teaspoon minced garlic
1/2 teaspoon chili powder
1/2 teaspoon salt
2 tablespoons finely diced jalapeño pepper
1 tablespoon honey
Sides on Plate:
2 handfuls of arugula
1 avocado sliced
15-20 sliced cherry tomatoes
1 can of black beans
1 lime sliced
1/3 onion
1/2 cup of quinoa (or 1 cup if you want leftovers)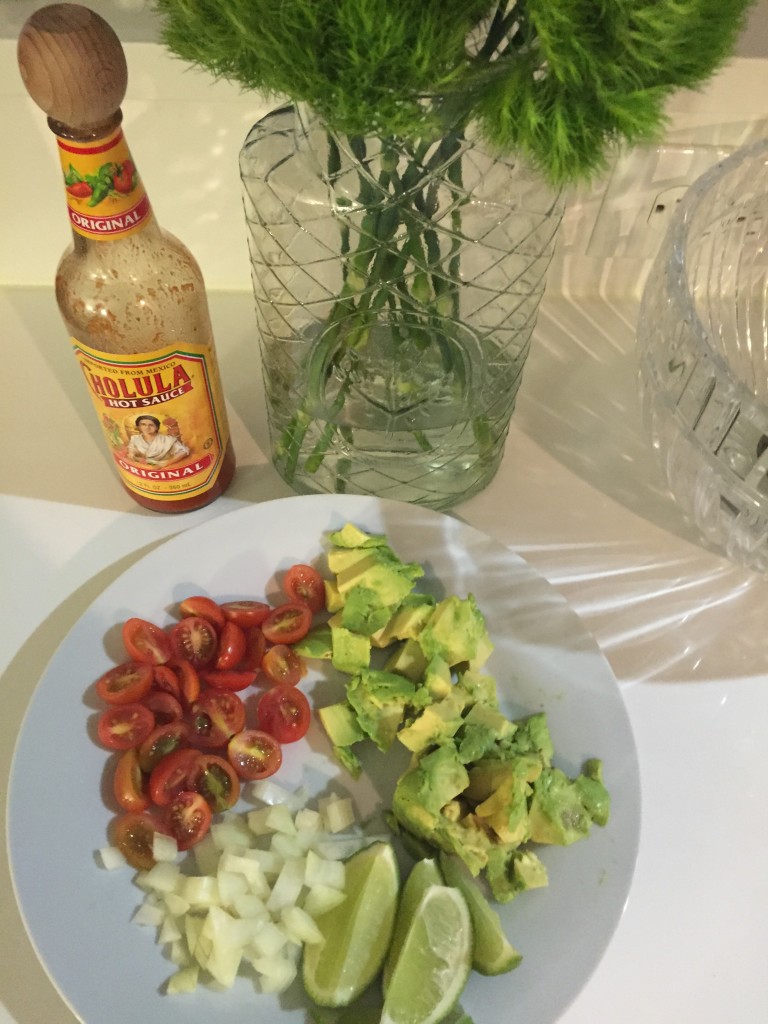 Photo Courtesy of Lincoln & Holland
Instructions: 
Prepare and boil your quinoa if you plan on including it as a side. (Helpful tip: cooking quinoa calls for a 1:2 ratio between quinoa and liquid; I just use water. Learn more here)
Clean your shrimp. I leave the shrimp tails on and place them directly in a large ziploc bag.
Marinate the shrimp with everything listed above and mix the marinade around well. Let sit for around 30 minutes (mine only lasted 20, because I was hungry).
Chop all of the sides: avocado, cherry tomatoes, onion, lime and put on one plate.
Take out a grill pan or a regular pan and cook your shrimp at medium-high heat for around 10 minutes.
While cooking your shrimp, warm up your black beans.
Plate your food accordingly. I really love having everything on one plate, so I can eat it like a salad.
Boom. Now, sprinkle with some Cholula!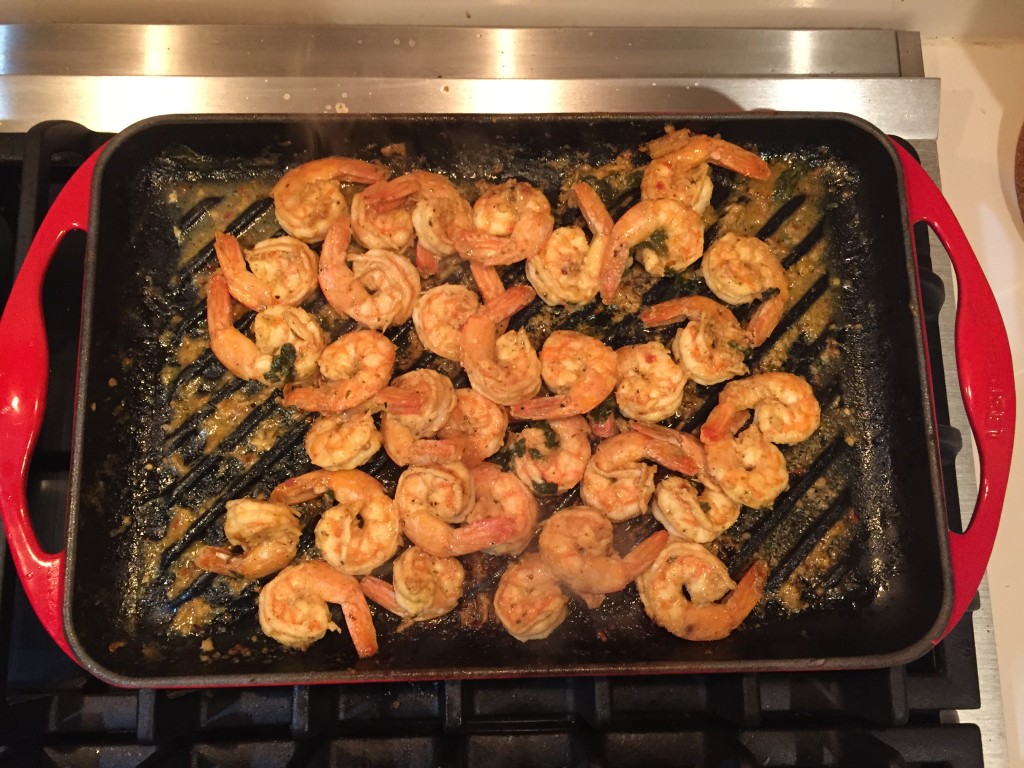 Photo Courtesy of Lincoln & Holland
Feel free to pop open a Corona… or just drink some water like me. Oh my, Taco Tuesday's have changed!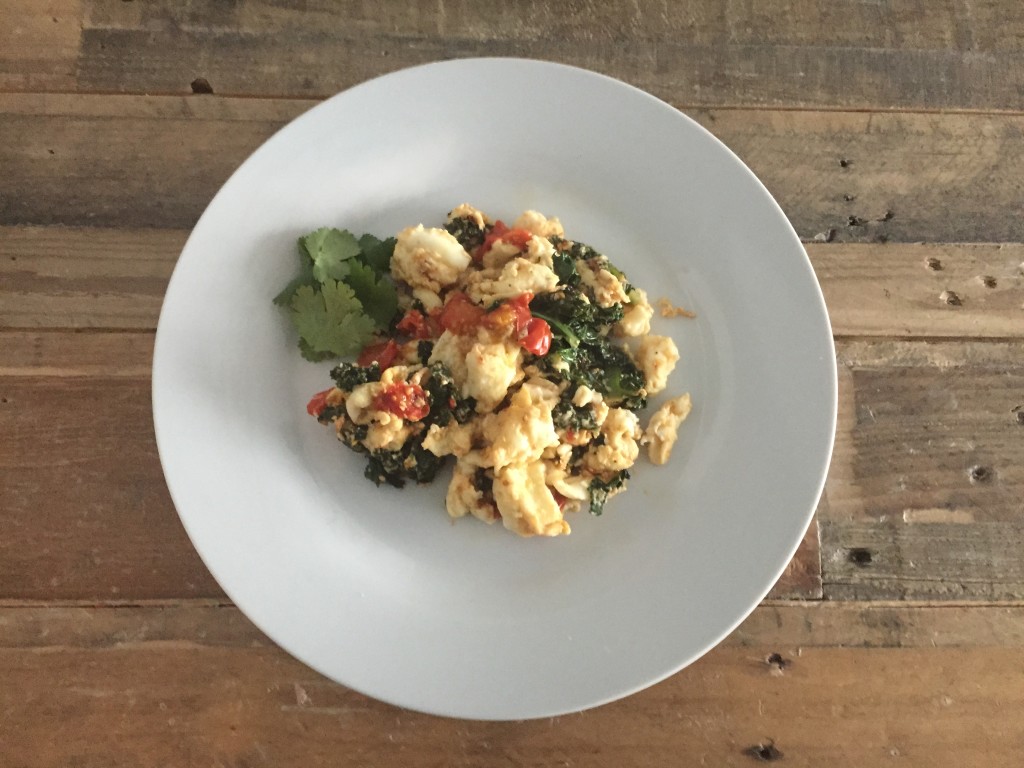 Photo Courtesy of Lincoln & Holland
During the weekend, I do my best to make a healthy, simple egg and veggie scramble for breakfast. It literally takes 5 minutes to prep and less than 10 minutes to cook! There is no excuse to not start your day with some protein and nutrients.
My favorite veggies to add to my scramble are cherry tomatoes and kale, however I'm just as happy with spinach and mushrooms.
Recommended Ingredients & Items (Serves 2):
2 Non-Stick Pans: 1 small pan and 1 medium pan
1 cup of Kale (I buy a bag of kale that I eat throughout the week with different meals)
8-10 Cherry Tomatoes
1/2 – 1 Tablespoon of Olive Oil (add more or less as you see fit; I don't ever measure this since it's just used for sauteing)
About 1-2 Tablespoons of Water (for kale sauteing only)
6 Egg Whites (you can leave in a yolk or two) or Egg-White Beaters
A touch of Simply Organic All-purpose Seasoning
A touch of red pepper flakes
Optional: Sriracha & shredded parmesan are both a great touch
Clean and chop up your vegetables to bite size pieces.
Use your small pan to add in your olive oil, water and kale. Add in seasoning as you please. Sautee at medium heat until the kale starts to look cooked through.
Then, add in your sliced cherry tomatoes and continue sauteing. Once all of the veggies looked cooked, remove the pan from the heat.
Use your medium pan to add in your eggs and cook at low-medium heat. Begin scrambling when they are no longer transparent.
Add in your sautéed vegetables and mix them around with your scrambled eggs. After about 2 minutes, you should be okay to turn off the heat and serve.
If you're a cheese person, feel free to lightly sprinkle with some shredded parmesan.
If you're a hot sauce person, drizzle some Sriracha over your plate. It's life changing.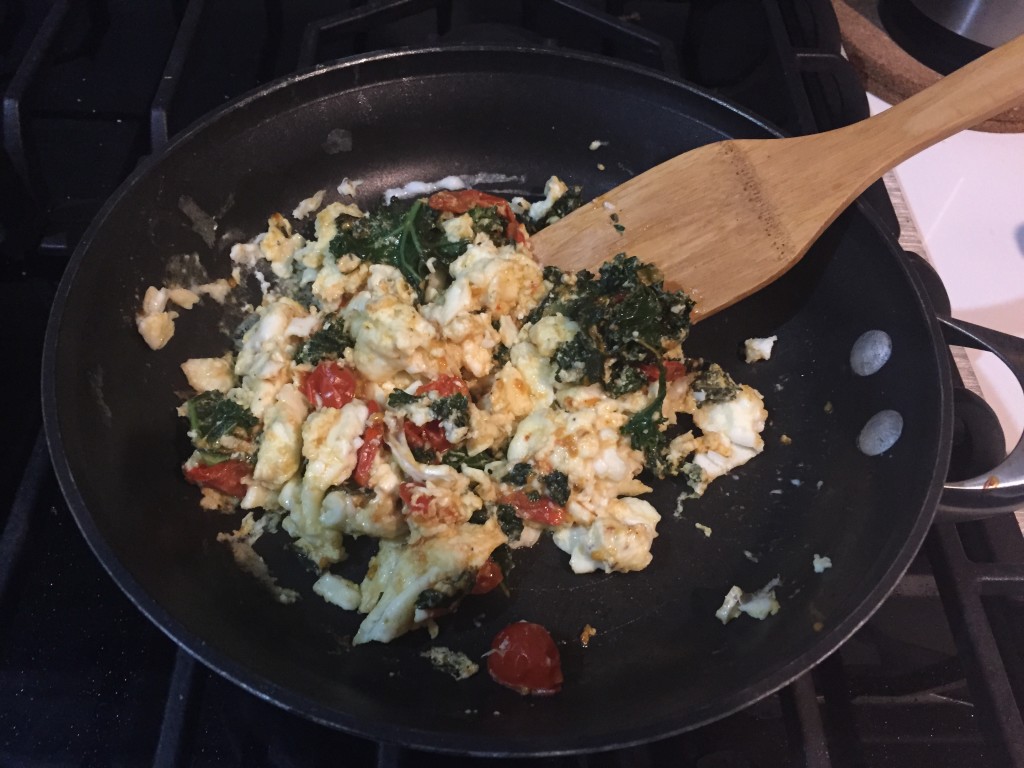 Voila! Now, enjoy with a cup of joe and a glass of fresh squeezed OJ (with some champagne…). It is the weekend, so treat yourself!